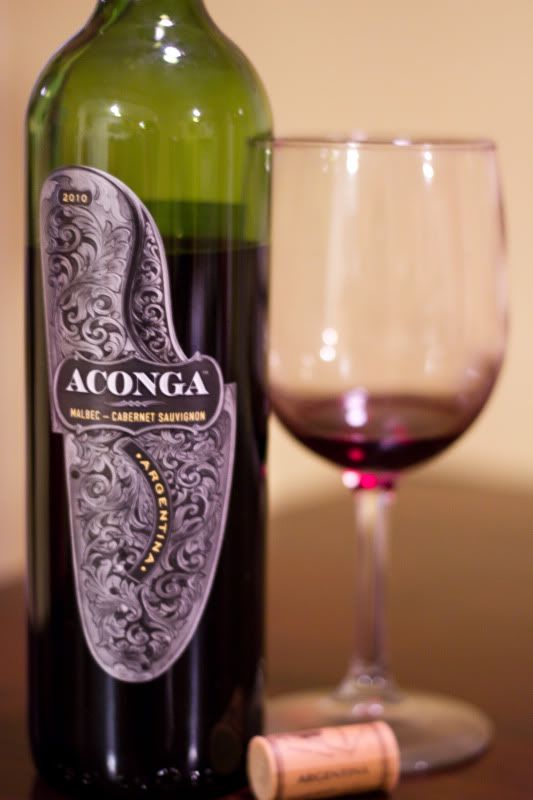 Malbec & Cabernet Sauvignon
Argentina
2010
80% Malbec and 20% Cabernet makes a rich purple and dark wine. There's ample notes of plum, black fruit, and all the good flavors that you want out of a red wine. It's soft and supple that goes with pasta or beef. We had it with roasted garlic and rosemary potatoes and portobello stuffed mushrooms with almond meal and Italian dressing. This was a completely vegan and gluten free meal -- and came out quite nicely. Paired great with the wine - though we believe this could go with just about anything. And under $10!
Colin
: Surprisingly good. The price had me skeptical, but on the first sip, I was delightfully surprised at how smooth and fruity it was. A little smoother than most Malbec - probably because of the amount of Cabernet in it. The only thing that lowered the rating was the slightly poor finish - it was a little too citrus-y. Great for $3.00
Rating: 7 out of 10 glasses
Rachel
: This is a very smooth red, rich and fruity. I was amazed that, for such a cheap wine, it was as great as it is. It smells very smooth. I don't really know what to say, because I really enjoyed this wine. It's fruity, easy to drink for non-red wine lovers, but also holds up on bold flavors for the wine drinker. And for the price - this is unbeatable.
Rating: 8 out of 10 glasses
Jennie's Birthday Review
: Surprisingly even, in both color and notes throughout. This wine gives a clean finish, but after a few sips, the fruitier notes become more clear. A little acidic for my taste, but overall a beautiful find for a great price! I think I may be a fan of Malbec!
Rating: 8 out of 10 glasses
Where can I find it?
We bought it at Ralph's - our local grocery store.
Aconga's
website
Cost:
On sale for $2.99! If you live in Los Angeles, get this bottle at Ralph's! Originally 8.99. For white lovers, Aconga also makes Chardonnay - we bought a bottle, but have yet to try it. We think the Malbec is worth the non-sale price too, but saving is always great.